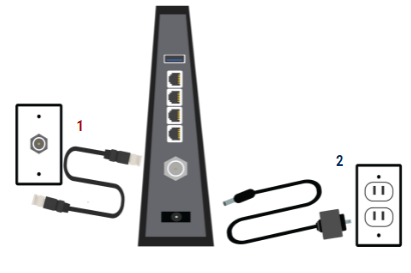 Connect the coaxial cable to a cable wall outlet on one end while connecting the other end to the threaded cable port on the back of the modem.**Use only your hand to tighten each end.
Connect the power cord to the power port on the back of the modem and plug it into an electric outlet.**For uninterrupted use, verify that you plug the modem into an electric outlet that is not controlled by a wall switch.
Password guide:
The password for the device's built-in wireless router is located on the product information sticker on the bottom of the unit.
(The series of characters labeled "Preshared Key" is the password.)
Front Panel LED light guide:
After successful setup and connection, wait a moment and the online light should be solid green while the Wi-Fi light will flash.