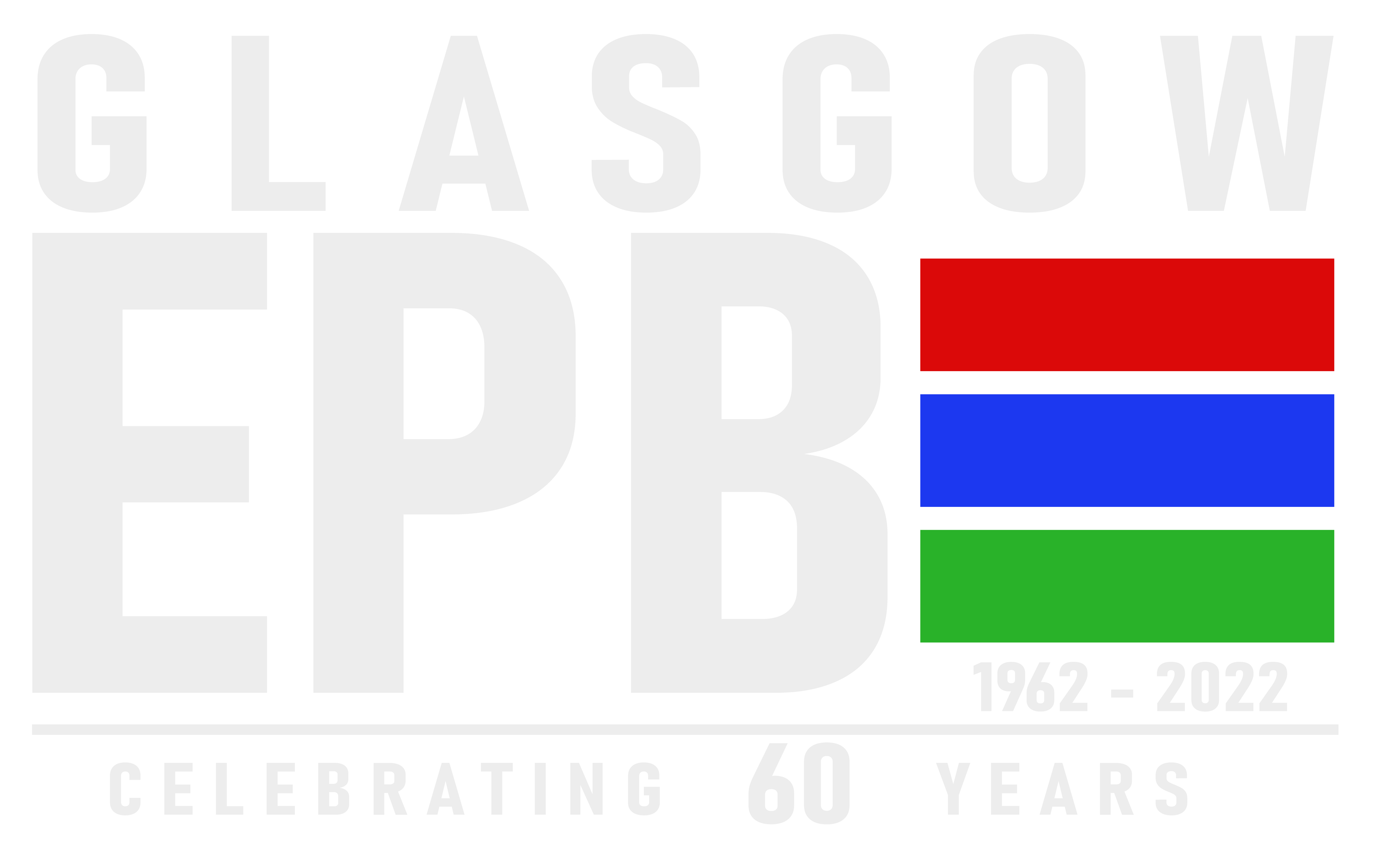 KU Rate Increase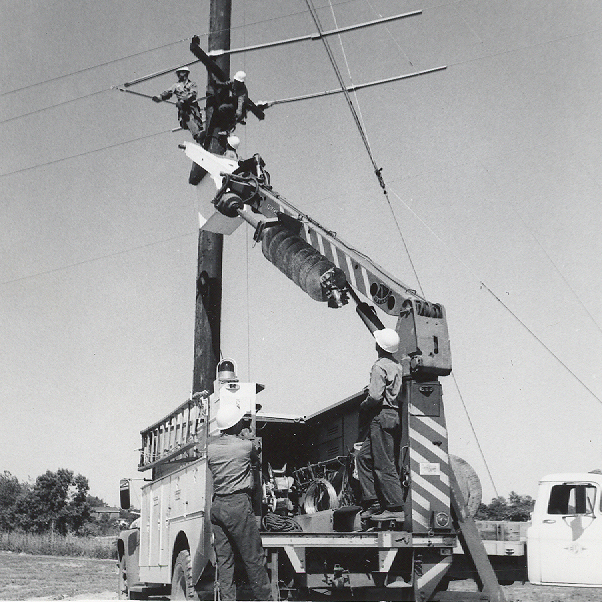 In late 1957, Kentucky Utilities submitted a rate increase that would be effective on January 15th 1958. This rate increase brought forth a public discussion after community members had watched other towns across the Commonwealth of Kentucky break away from Kentucky Utilities and start their own municipally-owned electric utilities.
Ordinance #808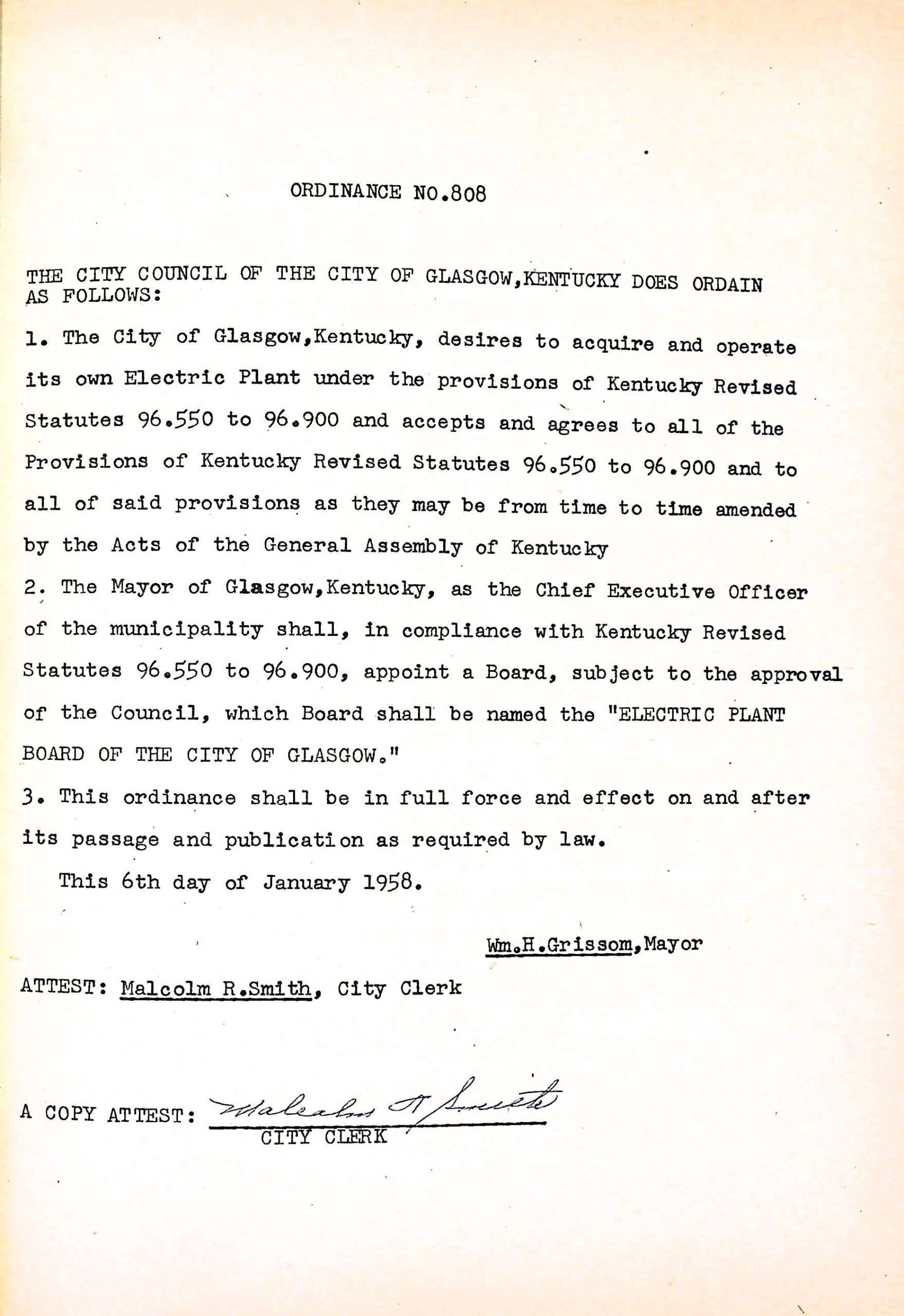 On January 6th, 1958, the City of Glasgow submitted ordinance 808, that would allow the city to acquire and operate its own Electric Plant Board.  Glasgow Mayor Wm. H. Grissom presided over this ordinance.  Appointed to the first board of directors were:
Irby Lee Redford, 4 years
Dr. W. H. Bryant, 3 years
J.B. Galloway, 2 years
Luther L Wells, Jr. 1 year
Dr. L.B. Mayfield, City Council Representative to the board until his term expires.
First Meeting of the Glasgow EPB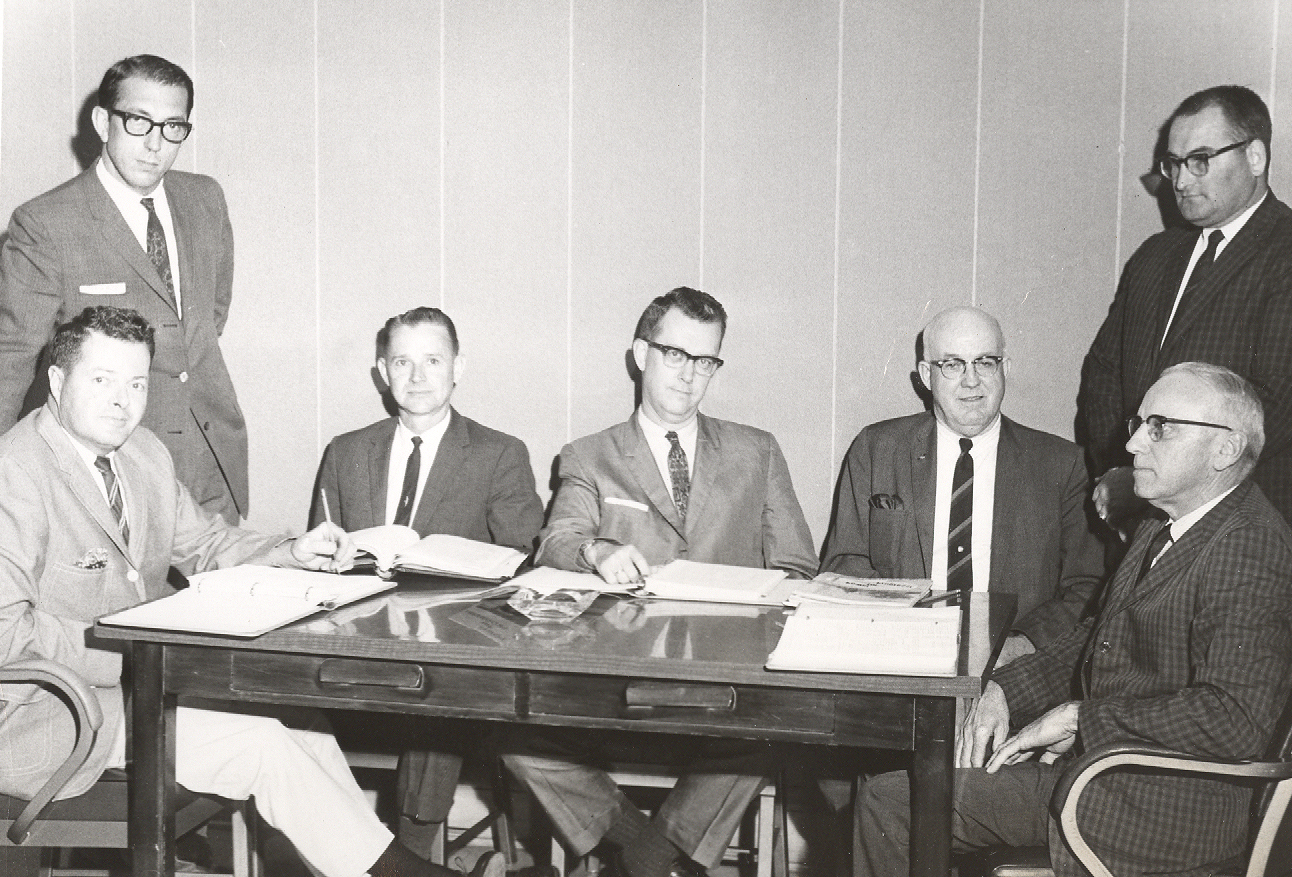 The very first Glasgow Electric Plant Board meeting was held on January 15th, 1958, 7:30pm at the offices of Wilson and Nunn on the North side of the square.  Lee Redford was appointed to act as Chairman Pro Tem until officers were officially elected.  First item of business was to elect officers.  J.B. Galloway nominated Dr. William H. Bryant for Chairman.  That motion was made by L.L. Wells Jr. and seconded by Dr. Lynn Mayfield.  Dr. Bryant was unanimously elected chairman.  Lee Redford then called for a nomination for Secretary-Treasurer.  J.B. Galloway was nominated by Dr. Lynn Mayfield.  A motion was made by L.L. Wells Jr. and seconded by Dr. Bryant. Everyone was in favor of the nominations.
February 1958 Meeting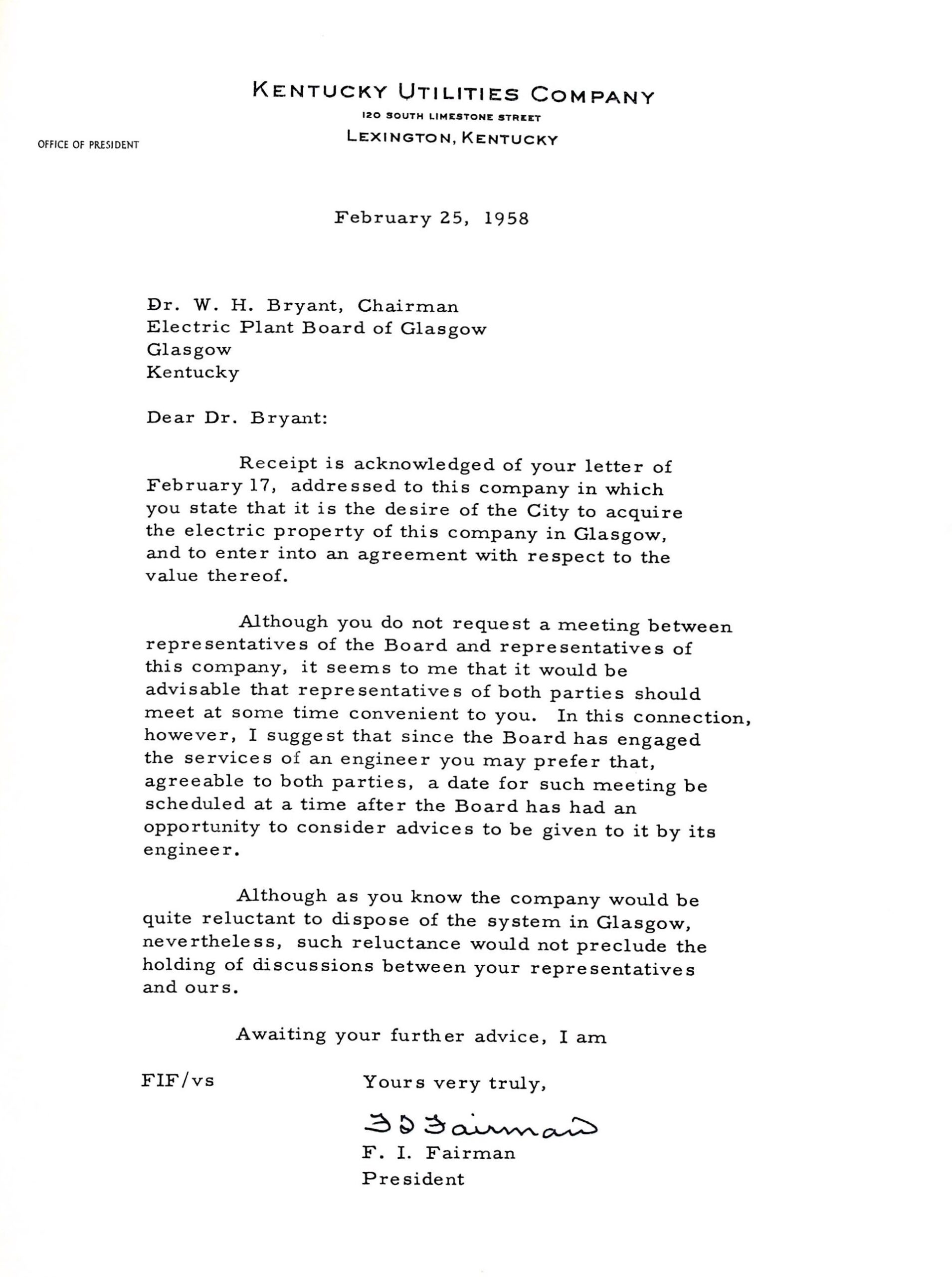 Previously, on November 25th, 1957, attorney Cecil Wilson composed and sent a letter to Stanley Engineering, a consultant, in regard to assisting the GEPB with their Engineering questions or needs.  At the February 6th, 1958, meeting, attorney Cecil Wilson suggested that the board should authorize Chairman Bryant to notify Kentucky Utilities of its desire to purchase KU's Glasgow plant.  A motion was made by L.L. Wells Jr. to do just that with a second by Lee Redford.  The motion was carried unanimously.  While innovative, the idea of a municipally-owned utility was not uncommon.  It has been noted that the cities of Frankfort, Bardstown, Owensboro, and Madisonville also had their own municipally-owned electric utilities and Glasgow would be wise to consult with them for advice.  
Local KU manager Addis Britt was also in attendance at the Feb. 6th meeting and spoke that his interests on this matter were with KU, the company he had worked for 31 years.  Mr. Britt was assured by the Board that certainly there was no malice towards him or any of his employees.  It is seen in the minutes that Mr. Britt was given plenty of assurance that this effort was only being done to save money for the citizens of Glasgow, the business and industrial interests of Glasgow, and to build a greater and better Glasgow.  The Glasgow EPB would, in all probability, retain all or most of the present KU employees after the acquisition was complete.  Soon after the meeting, a contract was signed between the EPB to retain Cecil Wilson for his legal services.
Correspondence with KU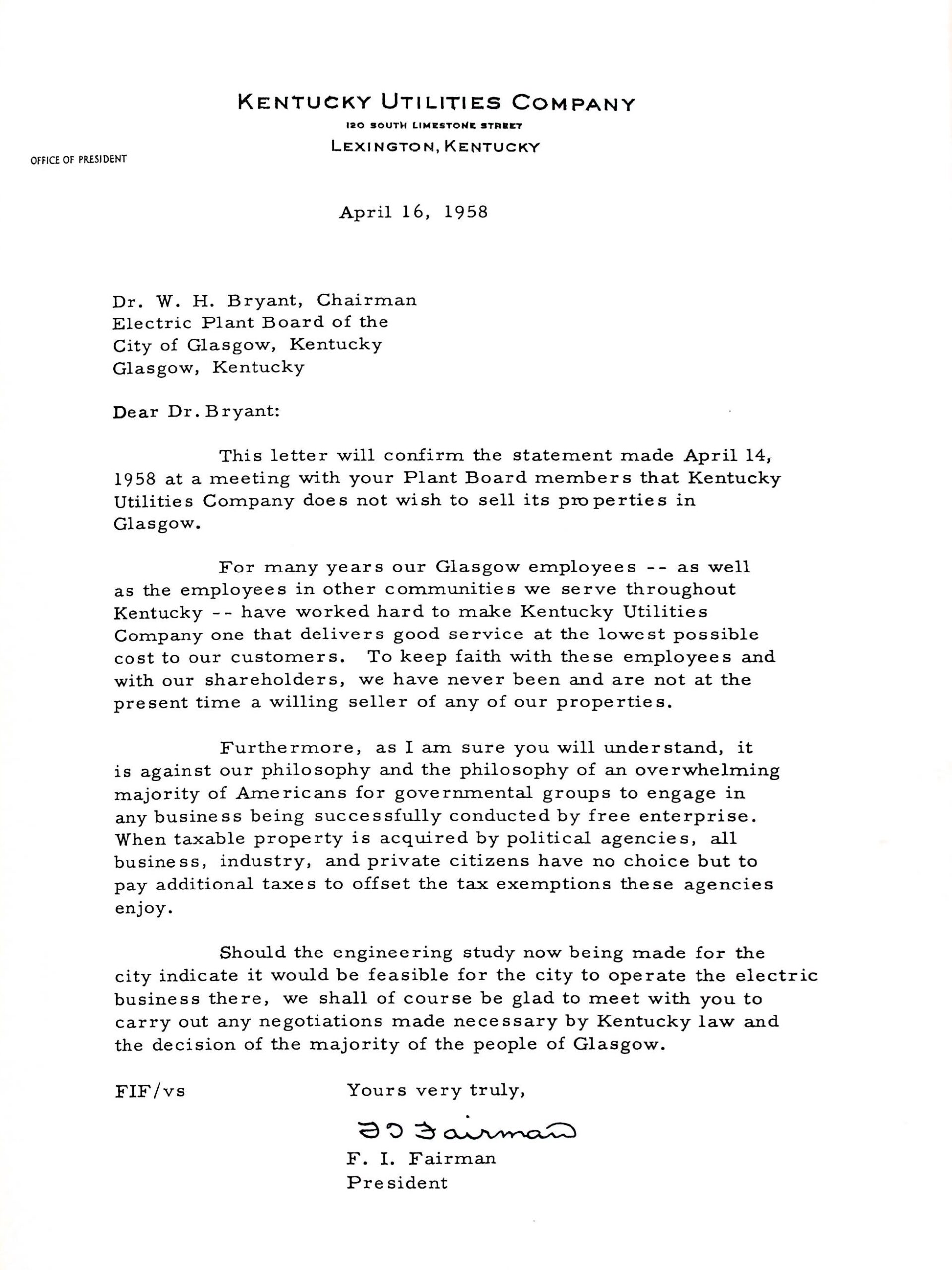 The March 6th, 1958, board meeting saw the approval of the contract with Stanley Engineering for their services.  The board also read a correspondence between the EPB's chairman William H. Bryant and Kentucky Utilities President Floyd I. Fairman.  Mr. Fairman acknowledged the letter received from Chair Bryant and recommended the two parties meet regarding the EPB wanting to acquire the KU Glasgow plant.  It was also illustrated that KU had little interest in selling the Glasgow plant but would be receptive of meeting EPB representatives.
A meeting was held on April 15th, 1958 at 1:30pm, at the Glasgow Municipal Building.  All EPB members were present.  KU president F.I. Fairman, Vice President W.H. Skinner, S.L Thurman, Lawrence Hughes, and Addis Brit were present at the meeting as well.  KU held firm that they would be unwilling to sell their Glasgow plant and that it would be a useless effort to try and attempt negotiations.  Still, the board marched on and appointed Mr. C.M. Stanley of Muscatine, Iowa as appraiser of the electric plant owned by KU in Glasgow.  KRS 96.580 states in order to acquire an existing utility by eminent domain, both the prospect and current utility have to hire appraisers and agree upon a set price for the property. 
Fall 1958 Through Summer 1959